What's it like working in a call centre?
With the UK boasting more than 6,200 contact centres nationwide, over 4% of the population is currently employed in call centres.
That's because more and more companies, large and small, are seeing the benefits of outsourcing their enquiries to a contact centre. Whether it's inbound queries or outbound sales calls, call centres are a way for businesses to streamline the huge numbers of calls they make and receive.  
But what's it like to work in a call centre?
We've created a thorough guide of the ins and outs of what a career in a call centre is really like.
What's work-life like in a call centre?
There are fundamentally two types of call centre jobs depending on the service of the company – inbound and outbound.
Inbound calls

— Inbound calls span a vast range of industries, where you could find yourself working anywhere from an electronics manufacturer to a bank. Depending on the services each company provides, you could find yourself setting up accounts, chasing down information or providing assistance regarding a product. Whatever it may be, the crux of the matter is that inbound calls ultimately deal with customer queries.
Outbound calls

— On the other end of the scale, outbound calls will involve actively reaching out to existing and potential customers. This may be for lead generation, to follow up on a service or to provide a customer with information, but, will predominantly involve sales.
Like any customer-facing job role, call centres are very engaging, social environments. So, if you're the type of person who likes to keep busy or becomes bored easily at work, this is a great way to stay focused throughout the workday. Plus, if you love engaging with different kind of people, in a customer- facing role, then you'll feel right at home.
What are the career prospects in a call centre?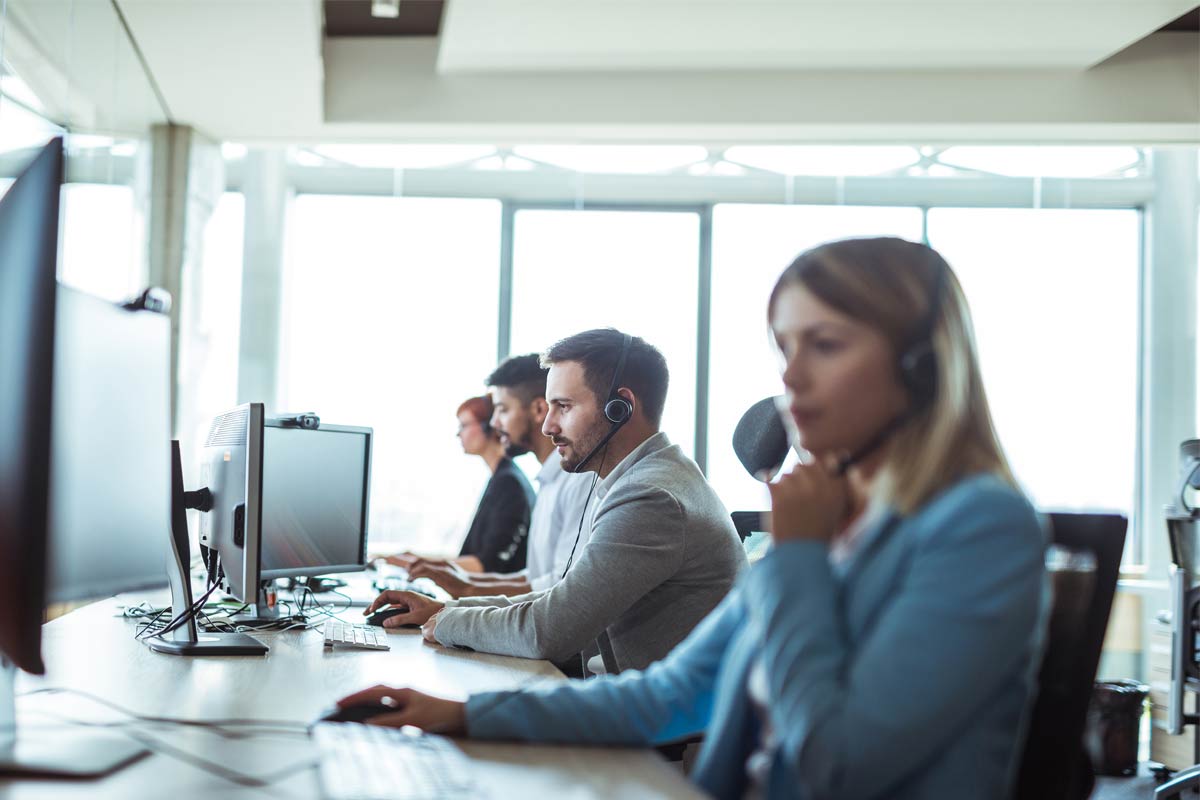 Good starting salary

– Believe it or not, call centres traditionally offer higher basic pay for entry-level positions than other sectors. This makes them a great choice for younger workers who can quickly learn new skills and make a good wage doing it!
Quick progression

– There are also plenty of opportunities to climb the corporate ladder. Promotions can come quickly if you're willing to get your head down and produce good results. Many senior positions are filled in-house, which means you could be leading a team or training new employees in as little as six months.
Future prospects

– Experience in call centres can also help your CV stand out when applying for other jobs. Recruiters know that contact centres require hard work and dedication, which are brilliant transferrable skills to many other work sectors.
What are the challenges of a call centre job?
Staying professional

–  Much like hospitality, you'll be the face (or voice) of the companies that your call centre represents. You'll be dealing with customers all day long and as such, you'll need to present yourself in the best light. This can be difficult if you're dealing with frustrated customers, but these situations will help you develop your communication skills and equip you for a good career ahead.
Sticking to targets

– Most call centres work to targets, so you'll need to find a way to manage your time wisely. If you're not used to working in fast-paced environments, you may struggle to keep up, but on the plus side, you'll be in a great position to progress if you're constantly hitting your goals. Targets aren't necessarily a negative, as there will often be rewards for going above and beyond.
What are the benefits of working in a call centre?
We've already outlined the financial gains of call centre work. But here's the best bit: that you don't even need any experience to get started!
No experience required

– It's very rare for a contact centre to request previous experience as most will provide full training from day one. Although past experiences in a call centre, or other customer service position would be desirable, recruiters are more interested in good communication skills and computer knowledge.

Good work-life balance

– As the nature of calls being made and received differs from business to business, some call centres will stay open 24/7. This gives you more freedom to choose the type of hours you'd like to work. Want to stick to a 9-5? Easy. Fancy working weekends to free up your weekdays? No problem. Plus, unlike other careers, you'll never need to take your work home with you after hours. This means you can keep your personal and professional lives completely separate.
If you think a career in a contact centre is the right path for you, head over to our careers page and submit a CV to join the CALLCARE team.