Complete Customer Service Solutions
Improved customer satisfaction

Callers experience reduced hold times and personable, helpful operators whenever they phone your organisation.

Comprehensive support

Our investment into state of the art contact centres on multiple sites ensures continuity of service at all times.

Multi-channel experience

We seamlessly integrate with your existing CRM, and can support you across a wide range of channels for a 360° customer experience.
Request Quote
Customer Care Services
Providing good customer care services is vital to creating a good experience for your customers and clients. Creating a good customer experience will benefit your organisation in a number of ways.
The better the experience your clients and customers receive, the more likely they are to stay with your organisation and use your products or services again.
Studies suggest that new customers can cost 10 times as much to generate as it costs to maintain an existing customer. They also show that repeat customers tend to spend 67% more and have larger transactions.
Outsourced Customer Service
An effective and immediate way to improve the quality of customer service in any organisation is to utilise an outsourced customer service provider.
A dedicated customer service provider will have the infrastructure and specialisms required to provide an extremely high standard of customer service while remaining cost effective.
The latest technology allows an outsourced customer service provider to seamlessly integrate with your existing systems.
This means that although the service provider is off-site, there are no additional delays when outsourcing.
Request Quote
Client Testimonial
Eyden Locksmiths
"Since 2013, CALLCARE has handled our out of hours calls and has done so impeccably.
Due to the nature of our business customers often need an emergency call-out and CALLCARE ensure that this can happen, no matter the time. Outsourcing to CALLCARE gives us peace of mind that our customers are being taken care of, even when we can't answer the phone.
The team are always available for any last minute updates and are very attentive to our companies needs.
A whole new bespoke system was even put into place to accommodate our specific requirements. A very professional and efficient service, we can see ourselves staying with CALLCARE for a long time.""
1. Reduce missed calls and business opportunities.
A specialist team, trained in your industry is allocated accordingly.

Our remote switchboard services are designed to enhance the stream of communication within your business.

Ensure that details from all calls are recorded and transferred to you.
Request Quote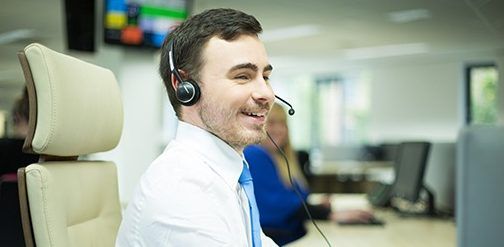 2. Reduce overheads and increase efficiencies.
Increase ROI by paying on demand, based on the call volume received.

Our dedicated operators are trained to filter calls before forwarding the important ones along to a member of your team.

Increase your staff's productivity, by allowing us to filter cold calls so they don't compromise valuable time answering the phone.

We handle fluctuating call volumes by providing a more flexible infrastructure to accommodate it.
Request Quote
3. Maximise clients' experience and deliver a SLA.
Our inbound UK call centres train PAs for specific industry sectors.

All calls are welcomed with a professional, human interaction.

Our switchboard and overflow services enable us to transfer customer calls to a member of your team, or take a message and email it directly to the intended recipient.

This precise skillset qualifies call handlers to respond to customers in the best way possible for your company, upholding your brand image.
Request Quote
4. Extend your business working hours 24/7/365.
Streamline your customer satisfaction throughout the day.

We provide an emergency 24/7 response for any last
minute calls, at all hours of the day.

Uphold your company's reputation and maximise your customer service by guaranteeing a professional and empathetic response to all calls.
Request Quote
5. Business continuity and disruption protection.
Our 24/7/365 multiple call centres across the UK ensure business continuity for your organisation.

We provide you with the reassurance that in the event of an incident or disruptions, your core business functions will be maintained.

We are not merely a virtual reception, but as incident handling service.
Request Quote