Integrated Solutions For IT Firms
Specialist IT & Tech Teams

We have a dedicated team to manage calls for tech and IT firms who understand the industry and your callers requirements.

Manage Engineer Call-Outs

We can triage calls and escalate them to the relevant on-call personnel in the event one of your clients requires immediate attention.

Arrange Meetings and Book Appointments

Our operators can manage your team's diaries to arrange appointments and book meetings with existing and potential new clients.
Request Quote
Call Handling For IT and Tech Firms
With a call handling service from CALLCARE, IT and tech firms can ensure their phonelines are covered 24/7/365.
This ensures that any new enquiries that come in are answered and dealt with by friendly and well informed staff.
We'll develop call flows that ensure you get all the information you need from every incoming call, and we can even incorporate diary management to book meetings between your team and existing customers or potential new clients.
Incident Response For IT Systems Providers
Often, your service level agreements will promise to keep client's systems up and running at all times, and provide immediate response in the event of a systems failure.
Our call handling service provides a cost effective way to meet that SLA.
We can manage your helpdesk 24/7, triaging any calls that come in and escalating them as appropriate. We can then dial out to your on-call staff briefing them in on the issue.
We will continue to liaise between your team and the client on site until the issue is fully resolved.
Request Quote
Client Testimonial
Eyden Locksmiths
"Since 2013, CALLCARE has handled our out of hours calls and has done so impeccably.
Due to the nature of our business customers often need an emergency call-out and CALLCARE ensure that this can happen, no matter the time. Outsourcing to CALLCARE gives us peace of mind that our customers are being taken care of, even when we can't answer the phone.
The team are always available for any last minute updates and are very attentive to our companies needs.
A whole new bespoke system was even put into place to accommodate our specific requirements. A very professional and efficient service, we can see ourselves staying with CALLCARE for a long time."
1. Reduce missed calls and business opportunities.
Outsource your calls to prevent missing any business opportunity
when your technicians are on duty, or busy managing other calls.

34% of callers who hang up do not call back, we help
avoid this by answering all of your incoming calls.
Request Quote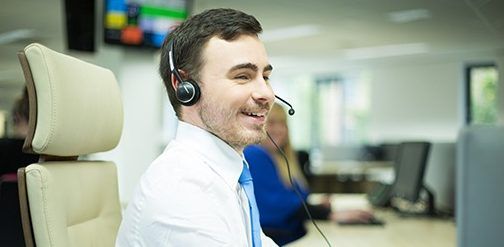 2. Reduce overheads and increase efficiencies.
Our operators filter incoming calls and transfer them.

Reduce your in house calls by paying on demand,
depending on the amount of calls you receive.

We triage calls and escalate them to the relevant on call
personnel, in a seamless manner.
Request Quote
3. Maximise clients' experience and deliver a SLA.
Our dedicated team are fully trained to understand the needs
of IT & Tech customers.

Specialised operators are trained to schedule appointments
on behalf of your company by managing your diary.

Callers will no longer face an engaged tone or automated message.

We provide unparalleled customer service, by responding to your company's calls and queries in line with your company's needs.
Request Quote
4. Extend your business working hours 24/7/365.
IT & Tech enquiries can arise at any moment of the day and
we're here to resolve that when you're not able to attend your calls.

We communicate with external operators for engineer call outs.

Our operators manage your help desk and respond to emergencies by
dialling out to your on-call staff when required.
Request Quote
5. Business continuity and disruption protection.
Intelligent call handling enables your firm to log client requests
at all hours of the day, regardless of whether your office is operating.

Outsource your business calls to aid the smooth running of events, without any technical disruptions.

Our virtual receptionists provide personalised client responses.
Request Quote