Customer Service Management for The Medical Sector
A dedicated team

Our healthcare team are trained to handle calls for the medical sector and understand the unique requirements of a medical practice.

Out of hours and overflow cover

We are perfectly placed to support your in-house teams at times of peak volume, or to deal with enquiries that come in after office hours.

Improved client care

Using healthcare services can be a stressful time for your clients. We mitigate this by providing an exceptional standard of service.
Request Quote
Telephone Answering for Primary Care
One of the ways to use CALLCARE's telephone answering service is to provide your clients with a dedicated out of hours patient care line.
We will work with you to create in-depth scripts that allow our operators to triage any incoming calls to your patient care line.
This means they will be able to effectively and accurately identify the needs of the patient and the level of urgency the call should be ascribed.
In the case of urgent calls, the operator can transfer the call through to your on call staff member to deal with the enquiry as an emergency.
Healthcare Service Call Handling for Secondary Care
If the call isn't an emergency but still requires attention, the operator can book an appointment with a doctor at the next convenient time.
If the caller doesn't require hands-on treatment, the operator can refer to an FAQ script to provide the caller with any information that may help them with their enquiry.
By utilising call handling in this way, you can ensure that your clients are fully supported both before and after their treatments.
This will help to provide the high standard of service clients expect from a medical practice, and it ensures that your practice can easily maintain a duty of care after the client has been discharged.
Client Testimonial
NHS Trafford PCT
"Trafford Stop Smoking Service has used CALLCARE to implement a 24/7 contact centre taking calls coming into the service. This process was made simple by great communication from CALLCARE, a friendly and approachable manner and quick responses to questions.
The centre operators are very professional when answering the calls and any training issues are quickly dealt with. CALLCARE have been a pleasure to work with."
1. Reduce missed calls and business opportunities.
Outsource your reception to ensure your calls are attended to 24/7/365.

Our virtual reception and overflow services support your existing team.

We can work within your company's existing framework
to qualify calls according to your criteria.
Request Quote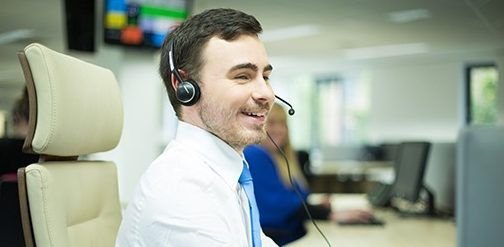 2. Reduce overheads and increase efficiencies.
Increase ROI and reduce overheads by paying for calls on demand.

Enable your staff to better allocate their time and increase productivity.

Our specially trained team manage your appointments and bookings and record caller details for when your team are occupied.
Request Quote
3. Maximise clients' experience and deliver a SLA.
Our specialised team of medical operators are trained to respond to calls with empathy and understanding where necessary.

We respect the confidential and sensitive nature of information when responding to calls inform callers of this.

Uphold your company's reputation and maximise your customer service by guaranteeing a professional and empathetic response to all calls.
Request Quote
4. Extend your business working hours 24/7/365.
We believe all companies in the medical sector have a duty of care to promise and deliver around the clock service to their clients.

Medical emergencies can happen at any hour of the day and our 24/7/365 services adequately assist patients and help facilitate this.

Emergencies are escalated to specific members of staff immediately.
Request Quote
5. Business continuity and disruption protection.
We ensure that you remain SLA compliant regardless of internal technical complications that your company may be facing.

Our multiple call centres around the UK maximise your response rate.

We are not just a virtual receptionist, but an incident handling service to handle any emergencies that arise.
Request Quote