Virtual Receptionist
Why Use a Virtual Reception Team?
Never miss an enquiry

We'll make sure every call is answered quickly and professionally.

Managed call routing

Improve efficiency by having calls transferred to the right people in the right departments.

Improved customer experience

We'll help you cut hold time and improve customer satisfaction.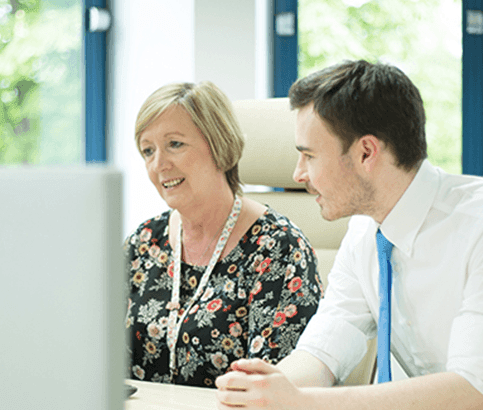 Outsourced receptionists who understand your business
Not every business has the resource to capture every call, especially if you're in high demand. Even so, it's important that your customers get a telephone answering service that accurately reflects your values.
When you opt for a virtual receptionist service from CALLCARE, we'll take the time to get to know your business. We train all of our reception staff to the highest level, enabling them to take your calls confidently and professionally so your customers enjoy a seamless experience.
We work hard to improve your business's efficiency. Our operators transfer calls to the relevant department, and, if no one is available to answer the enquiry, we'll take a message to ensure you never miss an opportunity.
Request Quote
Why choose CALLCARE to represent your business
We care about your customers as much as you do - Our virtual receptionists don't just take calls; they go the extra mile to provide your customers with the best possible experience every time they get in touch.

We have plenty of experience - We've been providing outsourced receptionist services for over 20 years, and in that time we've learned a lot. Rest assured our team has the knowledge and the experience to handle every call to the highest standards.

We understand your business - When you choose any of our services, we take the time to get to know your business and common pain points for your customers. It's how we're able to provide such a high quality of service.
Give your customers the welcome they deserve whenever they call with a virtual receptionist service from CALLCARE.
Client Testimonial
Impact housing
"CALLCARE are always professional and helpful, and provide a great service and an experienced team of people to assist in service delivery. Excellent value for money."
Frequently asked questions
How does it work?
Unlike a traditional receptionist based in-house, our virtual receptionists works remotely to handle any calls you can't, while upholding your professional company image. They are expertly trained to answer and manage calls in exactly the same manner as your in-house team to provide your customers with a seamless experience.

Whether you want a primary call handling option or additional support for your existing customer service team, we'll ensure your expectations are exceeded.
What are the roles and responsibilities of a virtual receptionist?
The core responsibility of all our receptionists is ensuring that your calls are answered, forwarded and dealt with in accordance with your company values and processes.

Where necessary, virtual receptionists will also take messages from customers before transcribing and emailing them directly to the right team.

Better still, our expert operators use the latest call patching technology to flawlessly manage and transfer calls.
What are the benefits of using a virtual receptionist?
Whether it's saving money or alleviating pressure on in-house staff, our virtual receptionist services offer a wide range of advantages that can help you reach your business goals.
Hire at a fraction of the cost of recruiting a full-time receptionist

Take advantage of a wealth of experience and expertise without the training costs

Never miss a call, even when call volume is at its peak

Free up the time of your in-house team to be used more effectively elsewhere in your business

See your exact requirements come to life with calls and messages taken using the procedures you've specified